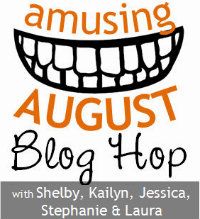 I'm linking up with these lovely ladies for Amusing August week 3! This weeks topic is...
What are some of your guilty pleasures?
So many come to mind when I think of my guilty pleasures, some embarrassing but here we go!
1. Chips & Salsa
I seriously could eat this for breakfast, lunch and dinner. That picture is making me real hungry!
2. Keeping up with the Kardashians
Probably my most embarrassing guilty pleasure but I'll keep watching this as long as it's on TV. I've seen every episode, so what!
3. Hockey
Being a Canadian girl this probably isn't a huge shocker but I really do love the sport. Pat and I watch the games religiously and I try and convert him over from the Colorado Avalanche to the Vancouver Canucks(still unsuccessful, even though he knows deep down the Canucks are a better team:) )
What are some of your guilty pleasures?